[SFS] [Core Screenings] Wed, 18 June 2014, 9pm: Blended / Make Me Shudder 2
When
18 June 2014 (Wednesday)
Where
Golden Village Marina
Marina Square Shopping Mall
5A Raffles Avenue #03/04-01
Marina Leisureplex
Singapore 039801
Admission

Free admission but members only -- flash your membership card to go in. You may bring up to 2 guests if you hold a SFS Reel membership card. Non-members may sign up online or at the door -- we will issue membership on the spot. No tickets will be sold. Free seating.
Cinema 1 – Blended
Rating: PG / Some sexual references
Cast: Adam Sandler, Drew Barrymore, Wendi McLendon-Covey
Director: Frank Coraci
Genre: Romantic Comedy
Language: English with Chinese subtitles
Running Time: 117 minutes
After a disastrous blind date, single parents Lauren and Jim agree on only one thing: they never want to see each other again. But when they each sign up separately for a fabulous family vacation with their kids, they are all stuck sharing a suite at a luxurious African safari resort for a week in "Blended," the third comedy collaboration between stars Adam Sandler and Drew Barrymore.
Trailer can be seen here.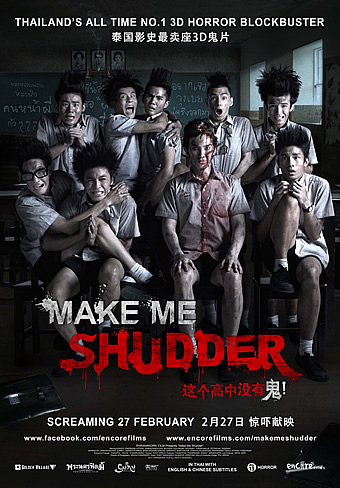 Cinema 2 – Make Me Shudder 2: Shudder Me Mae Nak
Rating: PG13 / Horror
Cast: Wanida Termthanaporn, Kunatip Pinpradub, Pongpitch Preechaborisuthigul, Puvadol Vechwongsah, Kittipat Samarntragulchai, Worachai Sirikongsuwan, Rittichai Tasarika
Director: Poj Apirut
Genre: Horror / Comedy
Language: Thai with English and Chinese subtitles
Running Time: 120 minutes
The wacky and foul-mouthed high school boys are back. The gang is led by their leader, Kunatip Pinpradub (Nick). His gang members include: Puvadol Vechwongsah (James), Worachai Sirikongsuwan (Tape), Suppakij Amornthitipong (Benz), Kittipat SamarnTagulchai (Bill), Brian Garton (Brian) and Sirapob Manitikun (Net).

After challenging supernatural forces at an abandoned school (in Make Me Shudder Part 1), Nick, Bew, James and his friends are now preparing for their university admission. As they played too much and failed miserably for their examinations, James brings his friends to receive blessings from Mae Nak Shrine, hoping to enter a university. However, Nick does not believe in Mae Nak and insults Mae Nak at her shrine. Suddenly, a whirl of wind brings the gang back in time to Phra Khanong. Mae Nak appears and promises to grant them their wish, but under one condition: they have to find her husband, Pee Mak. Desperate, the gang decides to seek any help to return back home. This is when the horror (fun) begins.
Trailer can be seen here.