Films about Dementia (part of Dementia Awareness Week 2009) 22 - 24th March
What
As part of Dementia Awareness Week, Alzheimer\'s Disease Association is presenting 4 award winning films on the impact of Dementia on the lives of individuals and the challenges faced by their families.
When
22 March 2009 (Sunday) - 24 March 2009 (Tuesday)
Where
Jubliee Hall Raffles Hotel, The Cathay Cineplex
Admission

TICKET PRICE (Exclude Booking Fee)


Standard - S$6
Seniors/Students - S$5

Tickets are available from SISTIC
Dementia (Alzheimer's disease is the most common cause of dementia) is an illness which causes brain cells to die at a faster rate than normal. This leads to failing memory, deterioration of intellectual function and personality changes. Dementia is not normal aging.

Presented by the Alzheimer's Disease Association as part of Dementia Awareness Week 2009, Films About Dementia will feature four films that portray the impact of dementia on the lives of individuals and the challenges faced by their families.
Winning entries from the Short-Film Competition "Living with Dementia" will be screened prior to the start of each of the four films.

---
22nd Mar 3pm - Oriume
22nd Mar 7pm - Thanmatra
23rd Mar 7pm - Summer Snow
24th Mar 7pm - Away From Her
---


Oriume - PG - $5/$6 (excluding SISTIC booking fee)
Venue - Jubilee Hall, Raffles Hotel
Buy Tickets



Screened at over 1000 cinemas, watched by over 1.3 million in Japan - Oriume is a poignant tale of a housewife coming to grips with her mother-in-law's senility. An acclaimed film that raised awareness on elderly issues and inspired grassroots action in Japan.
---


Thanmatra - PG - $5/$6 (excluding SISTIC booking fee)
Venue - Jubilee Hall, Raffles Hotel
Buy Tickets




'Thanmatra' is essentially the story of an ordinary middle class family. The ambition and goal of the family is to give a good education to her two children, with the immediate focus being to make the teenage son an IAS officer so that he can work for the development of the community and the country. The father, a government servant, is a role model for all parents. He utilizes his talent and time for the betterment of his children and the community around him. He is always a source of inspiration for the teachers and students, encouraging them to unleash their hidden potential. The peaceful existence of this beautiful family with strong values and bonding is suddenly challenged by Alzheimer's disease, which affects the father who is the mainstay of the family.
---


Summer Snow - PG - $5/$6 (excluding SISTIC booking fee)
Venue - Jubilee Hall, Raffles Hotel
Buy Tickets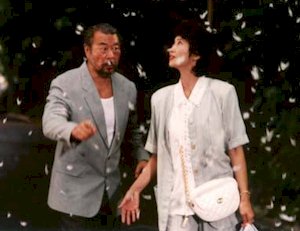 When May's mother-in-law dies, no one wishes to care for aging war-hero grandpa Roy Chiao. It seems Roy has a penchant for acting childish, wandering off by himself, and thinking he's still in WWII. Also, May has to contend with the mid-life crisis of her husband (Law Kar-Ying), a son (Allen Ting) despondent over his own relationships, and competition at her job from a much younger female. At first, May tries to find ways to pawn grandpa off, but somewhere along the way she learns to cherish her father-in-law (despite the fact that he acts like a loon).
---


Away From Her - PG - $7.50
Venue - The Cathay (Handy Road)
Buy Tickets




Away From Her is a beautifully moving love story that deals with memory and the circuitous, unnamable paths of a long marriage. Married for 50 years, Grant (Gordon Pinsent) and Fiona's (Julie Christie) commitment to each other appears unwavering, and their everyday life is full of tenderness and humour. This serenity is broken only by the occasional, carefully restrained reference to the past, giving a sense that this marriage may not always have been such a fairy tale. This tendency of Fiona's to make such references, along with her increasingly evident memory loss, creates a tension that is usually brushed off casually by both of them. As the lapses become more obvious and dramatic, it is no longer possible for either of them to ignore the fact that Fiona is suffering from Alzheimer's disease.